AFFORDABLE ROOF CLEANING IN BRISBANE
Roofs are one of the most important structural features of a house and, it plays an important role in giving the aesthetic appeal to the house. Ozclean has been providing affordable roof cleaning services in Brisbane for years. We know how important it is to keep the roof of houses clean and strong. Roofs are the shelter that protects houses from harsh climate changes. So, they get exposed to all kinds of climatic variations and weathering. Brisbane has humid weather and hot temperature which cause natural degradation to the roof. People do not care much about roofs once it is in place for a long time. Lichens, algae, dust, bird droppings, heat, and rain damage the roof over time. Once the roof is damaged, people think about getting a roof restoration and changing it entirely at that time but that is a huge expense and, quite unnecessary if roofs are maintained properly. You can get rid of all kinds of molds, algae, fungal marks, and lichens by hiring Ozclean's roof cleaning service in Brisbane.
Your roof is the first thing in your house that catches people's attention and you choose everything about it carefully when building a house. Maintaining the roof clean and algae-free is essential for the safety of your home and keeping it attractive. This also adds to the curb appeal of the house and increases the value of your property. Apart from the removal of dirt, algae, and fungi in the cleaning process, we also make sure to ensure protection for your roof from further damages. With our professional team of experts and high-powered latest equipment, we can give you the best roof cleaning experience in Brisbane. Our services include clearing of blocked drains and downpipes and also, gutter cleaning services. Why Trust us for your Roof cleaning in Brisbane?

Effective Cleaning Mechanism
We have been cleaning roofs in Brisbane for years and, we are familiar with its houses, roofs, and climate. Our cleaning professionals are well-trained to give the best treatment to your roofs. We also use the latest equipment and tools to ensure the best cleaning services. Our services ensure long-lasting protection against everything that poses any damage to your roof. Our cleaners are experts in roof cleaning, and we use only the best methods and equipment for your roof cleaning service. We take the necessary safety precautions and ensure that no damage is done to the property during the cleaning process.

Affordable Services in Brisbane
We make sure to give you a 100% satisfaction level for the work we deliver. At the same time, the tension of off-budget expense will not bother you. Our executives will come and inspect your house and will let you know the cost of cleaning based on the type, size, and condition of the roof. We aim to provide the least expensive roof cleaning service in Brisbane by using cutting-edge technology and, well-trained professionals. Our service charges are extremely affordable, and we will never charge you anything out of the final quote.

Accessible When You Need
At Ozclean, we make sure that we are available whenever our customers in Brisbane need us. You can sign up for a free quote on our website and our customer service executives will get back to you. They will help you with the entire roof cleaning process and provide you assistance with any cleaning needs that you have. You can entrust us with services any time of the day. Our workers deliver your services at the time preferred by you. Our customer care assistance also functions 24*7 a week. Our services are available everywhere in the city of Brisbane and all of its suburbs.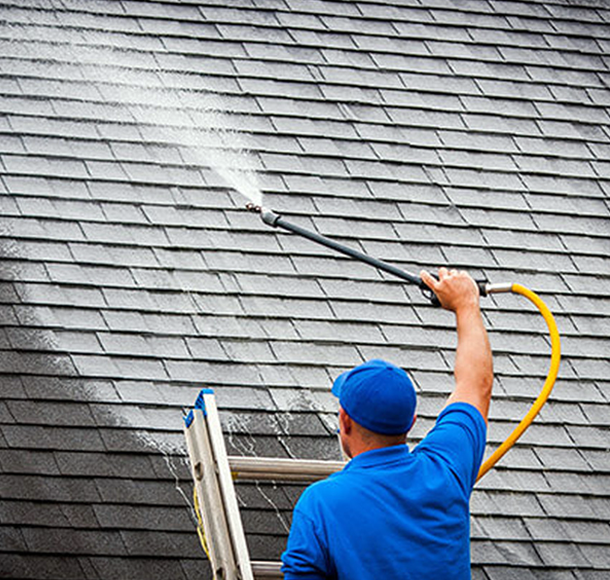 Best in Class Roof Cleaning in Brisbane
Hiring professional roof cleaners is much better than going for roof restoration. It is often misinterpreted that roof restoration is your ultimate solution to getting rid of the damages incurred to your roof. Roof cleaning will give you guaranteed results and is much affordable than getting roof restoration. Ozclean has been providing the most efficient roof cleaning service for the people of Brisbane for years now. We provide our roof cleaning service according to the requirements of our customers and the condition of the roofs. Our roof cleaning services include soft washing, high-pressure cleaning, mold removal, and algae treatment.
GENERAL ROOF CLEANING PROCESSES

Softwash Roof Cleaning
Soft wash is done on roofs that might be damaged if pressure washing is used and for roofs that have stains that are hard to remove.
The process involves the application of a mild chemical solution on your roof.
This is done with a lesser hose pressure and then the solution is made to stay for a while.
This chemical will then break all the rigid molds, algae, and marks on your roof.
It is rinsed and washed away with water at low pressure.

High-Pressure Roof Cleaning
High-pressure cleaning uses water sprayed at high pressure to remove dirt, lichens, and algae on the roof.
Using the right pressure to clean your roof is very important as it can cause damage if not done the right way.
We have our machinery and equipment engineered and designed in a way as to deliver the preferred working.
We make sure to understand the nature of your roof and then determine the amount of pressure to be used.

Roof Mold Removal and Treatment
This is a preventive measure step performed by our team.
We treat the mold, moss, and algae growth on your roof and find the cause of the problem.
We provide a treatment that has long-term effects to make sure that you do not encounter any reoccurrence of algae, molds, or moss for at least a year.
Why Do You Need Professional Roof Cleaning Services
Everyone knows about the structural and aesthetic importance that a roof has in a house. A strong and robust roof is absolutely necessary to ensure the safety of everyone living under it. Roofs take most damage as it is exposed to climate changes, harsh weather, and pollution throughout the year. Roofs have to be maintained properly to ensure the safety and appeal of the house. Algae, lichens, and dust can cause health issues and safety hazards in a house. These can cause damage to roof shingles, water leakage, and wooden structures to rot. Roofs can also be the breeding grounds of pests if left unattended. Cleaning the roof at least twice a year is essential for maintaining it. But, cleaning the roof is not an easy task. It can be risky and can even cause accidents if proper precautions are not taken. Professional roof cleaners are experienced and knowledgeable about the precautions to take and things to consider before cleaning them.
They inspect the roofs first and take note of risky areas. It also helps avoid any damage that can happen when you try to do it alone. Roof tiles and roofs are made of different materials and require different treatments when it comes to cleaning. They can create a perfect plan for cleaning your roof and removing algae, lichens, and pests that can damage your house. Roof cleaning by professionals can keep your roof attractive and keeps it in good condition for a long time. This helps to keep the value of your property high and lets you get a better resale value. It is always better to wash and clean your roof thoroughly before repainting it. So, getting the help of professional roof cleaners can help you save a lot of expense in maintaining the house and keeping it safe. Experienced and expert roof cleaning experts like our team at Ozclean can assist you with in keeping your roof and house attractive everyday.
Know your Roof, Know your troubles
Cement Tiled Roof
Colorbond
Spanish Tiled Roof
Tin
C-lock Roof
Asphalt
Elemental tiles
Fiberglass shingles
Slate
Barrel roofs
Terracotta
WE COVER ALL THE SUBURBS IN BRISBANE
When we say Brisbane, we mean every nook and corner of it. Our high quality, perfectly designed bond cleaning services are available at your doorstep in Brisbane and all nearby suburbs. We are just a phone call away.

FREQUENTLY ASKED QUESTIONS
Our cleaning charges will depend upon the material of your roof, its total area, the condition of your roof, and the damages incurred on it. Ozclean provides you free quotes so that you will get a complete idea of what the whole process is going to cost you. You may either fill up the 'FREE QUOTE' form on our website or reach out to us at 0400121121.
No. You get this additional benefit when booking our roof cleaning services. We also undertake gutter cleaning along with roof cleaning, and you do not have to worry about booking it separately.