Best Bond Cleaning Brisbane
Hiring a professional bond cleaner will be a cost-effective and time-saving thing for a tenant to do. This way, tenants can invest their valuable time in packing and planning the new phase of their life. But it is mandatory that Bond cleaning should be done according to the requirements specified in the checklist. It is important to make sure that the process involves proper planning to get a full refund of the bond money. As a tenant, this would be safer means towards securing the bond money rather than trying your hand at the end of lease cleaning.
Ozclean is one of the top performers in Bond Cleaning when it comes to Brisbane. Our professionalism and a 100% satisfied clientele are something that we stay proud of. We are one of the best competitors in the niche of the bond cleaning industry in Brisbane by having a clean record of service quality.
Our no.1 priority is to make sure that our clients get their bond money back. We do whatever it takes to make that a reality. For a proper transfer of bond money, the landlord should be convinced that the cleaning is proper and the property is as clean as it was handed over to the tenant. It includes cleaning the kitchen, bathroom and laundry area which are commonly the most affected areas due to day to day activity.
We take immense care while choosing the cleaning tools and solutions. Because a bad choice while selecting them is more than enough to cause a new stain or patch. The right kind of cleaning agent with the right set of tools always ensures good results. It is important to attend to the hard stains and spots and make them vanish completely. It is a challenging task that Ozclean Brisbane has achieved successfully many times without fail. What We Do?
When it comes to Bond cleaning in Brisbane, we have the perfect cleaning solutions for residential and commercial needs
WHY CHOOSE OZCLEAN'S BOND CLEANING?
When it comes to securing the bond money, Ozclean is the no.1 choice in Brisbane & suburbs

WELL TRAINED SERVICE PERSONNEL
Our team comprises well-trained and groomed cleaning experts who resort to top-notch equipment to revamp your place as good as new. We ensure that your house is returned to you in perfect and pristine condition. Ozclean delivers the best quality service for your exit cleaning demands in Brisbane.

Discover Added Benefits
You can avail yourself of an opportunity of getting a free quote through our official website. Ozclean's service executives will reach out to you immediately without keeping you waiting. We also provide a free inspection before cleaning. Not only that, but we also aim to get you a full refund of your bond money. All these come at the best affordable rates in Brisbane

SERVICES ANYTIME ANYWHERE IN BRISBANE
We make sure that anyone in Brisbane can contact us at any time for their cleaning needs. Our helplines and services are open for service 24*7. We function seven days a week to help the people of Brisbane live without the fear of losing their bond money. Contact us any time for an easy end of cleaning experience.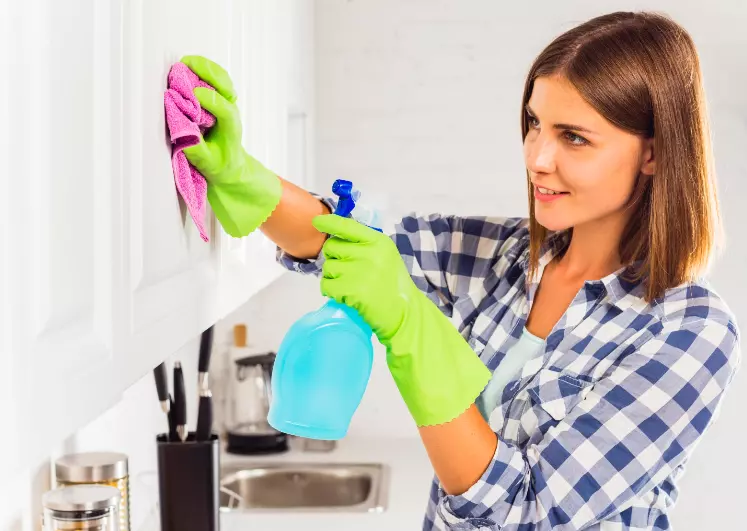 Affordable Cleaning in One Call
The Ozclean Brisbane Bond Cleaning is a round the clock service. You can call us anytime. Day or night, even on weekends. Because we understand that you have to fix a lot of things before moving out. And this is a challenging task. That is where a professional service can help in planning, organising and executing the whole process to its successful completion. If you feel like dealing with things online, our state of the art website will make sure that you are in safe hands. There are enough resources on our online portal to guide you through every aspect of our bond cleaning services in Brisbane and the suburbs. Our online resources will help you understand various aspects of the process and how to effectively plan bond cleaning services so that you will never be in a position to lose your bond money.
Our bond cleaning services in Brisbane are available at discounted rates and can be at your doorstep in one call. You can also make use of our " Get a Free Quote " feature so that there is no confusion about the tasks that we are going to perform and the price involved. We have a 100 percent transparent policy through our bond cleaning services. There are no hidden charges or terms that will trouble you later. Ozclean is always open with our clients and conveys every single information and detail that matters. You are always in the loop and our 24x7 customer care is always available attending to your needs and doubts.
Read More
Top Quality Services Guaranteed

Best Price
We provide the best and most affordable bond cleaning services in Brisbane. Claim your bond money back without straining your wallet. Our personalised packages make sure that you pay only for what you need.

A Phone Call Away
We know that bond cleaning is also a time-bound process. Unless attended promptly, on time, it might prove useless. All it takes is a phone call and the Ozclean cleaning professionals will be at your doorstep.

24x7 Support
We maintain a 100% professional attitude while handling assignments. There is always someone at the other end to listen to your problems. Feel free to reach out to us if you need any assistance.
Your Best Bond Cleaning Partner in Brisbane
The house that you leased in Brisbane will have to undergo a final round of inspection before you move out. This inspection is often undertaken by the realtor who is involved or at times by your landlord itself. The purpose of this final round inspection is to ensure that the property has not undergone any permanent damages and has been cleaned neatly. This ensures that you do not cause any loss for the landlord as once you move out, he will have to fix that later. Therefore, bond cleaning or exit cleaning is quite crucial for both the tenant as well as the landlord. As for the landlord, how clean and functional the property is will determine the quality of the property and the rent amount he will receive henceforth. Whereas for the tenant, it involves the need for a full refund of bond money he or she has given as security to the landlord.
The process of end-of-lease cleaning in Brisbane is therefore performed before the final date of inspection. The condition form or condition report that lays out the condition of the building before you move in will be considered to be the major reference for performing your bond cleaning and evaluating the condition of the house. It is performed in a way to match the state of the property as described in the condition form. When you get closer to your end-of-lease, you will be provided with the final date of inspection. We recommend that you perform your Bond Cleaning at least 2 days before your inspection date and not long back. This ensures that on the day of your inspection, the property will remain clean and fresh. The inspection will not take into consideration the 'fair wear and tear' that occurred to your property. It is after this inspection that the landlord initiates the proceeding to refund your bond money back to you.
Ozclean provides the best bond cleaning in Brisbane. The action of hiring an experienced team of Bond Cleaners in Brisbane comes with a jackpot of benefits. You just have to reach out to Ozclean's customer assistance portal or try filling up the free quote form. Getting help from Ozclean is that easy. Our team of experts will be there for you and they will assist and guide you throughout the Bond Cleaning process. We also provide you added benefits like free inspection and free quotes. Moreover, the quality of services that we deliver is of Elite-class standards. We ensure to provide you with unbeatable cleaning standards no matter what your budget is. Because, when it comes to providing the best services to our clients, Ozclean makes no compromise whatsoever.
Therefore, we guarantee that you get to experience the most satisfying bond cleaning services in Brisbane with us. Hiring us will secure your Bond money and you can rest easy without fear. With tools and equipment made with our cutting-edge technology, reliable customer support and assistance, and our remarkable comprehensive cleaning practices, we have been quite successful in maintaining a quality clientele relationship. So trust our experienced cleaning team with your bond cleaning needs in Brisbane for a full refund of Bond Money.
What We Cover in Bond Cleaning
When it comes to bond cleaning and getting the bond money back, there are certain requirements set by the landlord. Bond cleaning is different from regular home cleaning services. We need a professional and systematic approach to ensure that all requirements are met and no objections can be raised about the service

General House Cleaning
Sweeping, mopping and vacuum cleaning can bring a huge difference when performed properly by experienced professionals. We also attend cleaning and dusting fans, air conditioners, filters, light fixtures, window panels, cupboards and shelves and furniture.

Kitchen
The kitchen poses a wide variety of challenges from cleaning the stove tops to dealing with pests. Oven and surrounding areas are not an easy task either. The kitchen floor is often prone to stains of various kinds that need special attention. The Ozclean experts will make sure that the kitchen area is clean and ready at the time of inspection.

Bathroom
Water, soap and detergents can attract all sorts of imaginable mess. They are often stubborn too. It takes the best of the experts and industry standard cleaning solutions to fix a bathroom ready for a bond cleaning inspection. We make sure that all bathrooms are fit and ready so that you do not have to face any challenges.

Patio Area
Our bond cleaning services attend all parts of the premises as suggested by the client. The floors are cleaned and cobwebs are removed effectively from the Patio area.
Why Professional Bond Cleaning Services in Brisbane?
Bond Cleaning is undoubtedly one of the most important domestic cleaning services we provide. This is because unlike the rest of our cleaning services, Bond Cleaning involves the necessity of a Bond Back Guarantee. With other sets of domestic cleaning services, there is no specific framework for cleaning. Whereas, in Bond Cleaning we follow a prescribed checklist for cleaning and restoring the house. Also, we give a greater emphasis to meeting the requirements mentioned in your tenancy agreement or condition form. Our ultimate aim is to execute the required services mentioned in that form or agreement, and restoring your property to look brand new, just like how it was before you moved in.
Our bond cleaners in Brisbane recognize and understand how crucial the process of bond cleaning is when you are preparing for your final inspection. Because of this, we inspect at first to examine the state of your property before performing the cleaning. This will help you specify and discuss your cleaning requirements. The quality of the bond cleaning done determines whether you get your bond money refunded or not. Fret not, Ozclean has got your back. This is why we make sure to incorporate customized packages so that we get to meet and fulfill your changing needs and specification. Our team is also equipped with specialized and advanced tools, equipment, and machinery. We also make sure to evaluate the gravity of every single damage and our technical team analyses the damages incurred to the property. Our team of highly expert professional cleaners ensures that they will use the best cleaning approaches to treat every stain and mark perfectly without leaving any trail or marks.
We understand that a lot of people have the notion that Bond Cleaning is very much similar to Deep Cleaning. This often leads them to underestimate the gravity of the situation and they often perform the task of bond cleaning by themselves. The tenants soon realize that bond cleaning is something much harder and complicated than deep cleaning as the former requires professional assistance and technology. Trying to do bond cleaning by yourself poses more risks as it can decrease the chance of getting your bond money back.
Some tenants hold back on hiring professional bond cleaners for their rental homes as the services are beyond their budget. Ozclean believes that every tenant in Brisbane deserves the best of pro bond cleaning services available, and the high cost of the service must not stop them from availing it. The customized services we provide are not only high in quality but are also affordable. Now you don't have to worry about the high costs associated with hiring quality bond cleaners, all you have to do is choose us.
Bond Cleaning or End of Lease Cleaning requires technical awareness and supervision. This is why our Pro Bond Cleaners in Brisbane are well trained for doing each cleaning task perfectly. You will lose track of the cleaning performed as there will be a lot of requirements mentioned in your condition form. One might not possess all the required tools and machinery to carry out the process. Specific cleaning requires specialized cleaning agents and equipment. Purchasing all of these yourself is quite a drain of money. Avail the service of professional bond cleaner in Brisbane which is cost-effective. You might get carried away by the stress of packing and relocating.
Bond cleaning might add additional stress with a lot happening at your house. There are a lot of things to be taken care of while relocating to a new house. Trying to do bond cleaning by yourself can cause more tensity to whatever is going on. If you are not good at dealing with serious damages, trying to fix damages might cause permanent irreversible damages that will affect the refund of your bond money. If you fail to perform well in bond cleaning, you must be well aware of the fact that you will face quite many hurdles in getting a bond refund. Therefore, it is highly recommended that you trust professionals who are well aware and experienced in the task. There is no more need for worrying about fixing your house along with finding the right movers and packers for your new home. This will also be a great relief factor for you as you can then peacefully concentrate on your relocation.
Our working structure is customer-oriented and we always make sure that you get your Bond Money Back in a full refund without any fuss.
OUR BOND CLEANING SERVICE PROCESS

General Services
Cleaning cobwebs, marks of insects, and nests left behind due to pest control failure.
Cleaning and dusting Fans, Air Conditioners, and filters.
Cleaning light fixtures of the given space as far as it is accessible and removable.
Offers spot cleaning on the walls, switches, and power points.
Cleaning windows panels.
Vacuum cleaning to erase the tracks of sliding door.
Cleaning drawers, cupboards, shelves, and other attachments.
Mopping the floors.
Furnishing Service.
Dusting and cleaning furniture and its surfaces.
Cleaning kitchen cupboards.

Bathroom Area
Cleaning window tracks (outside window as if required), floors, space of washing machine.
Washing the laundry tub, shelves, cabinets, tapware.
Washing the dryer by opening the lint.
Cleaning and drying the drawers and cupboards.

Kitchen Space
Thorough cleaning of doors, drawers, and cupboards.
Cleaning grillers, ovens, racks, shelves, doors, and knobs.
Cleaning and drying the sink, drainage system, and tapware.
Checking the exhaust and filter as required.
Cleaning the stove, the rings, and knobs.

Patio Area
Cleaning the floors and cobwebs.
Cleaning the Cobwebs.
Proper sweeping.
Extensive Mopping.
Maintain general cleanliness.

Additional Services
Carpet Cleaning.
Blinds IE Venetians.
Maintenance of Pool.
Pressure Cleaning.
Rubbish Removal.
Garden Maintenance.
Cleaning of Upholstery.
Furnished properties.
Pest Control.
Bond Cleaning Brisbane with Bond Back Guarantee (Terms and Conditions Apply )
We understand that your hard earned money is valuable. We will never let it leave you, no matter what. We, at Ozclean, take extra care and caution while attending bond cleaning services. Our primary aim is always the tenant securing their bond money without any issues. When a client approaches us for bond cleaning, we guarantee that they get their bond money back. That is our word and we value it above anything.
While people might think that this is a tedious affair, for us, with extensive experience in bond cleaning services, it is comparatively an easy promise to make. We just have to do our job as we always do. Neatly, efficiently with perfection. And the outcome is quite predictable. There is no chance of a conflict when the house is back to the condition it previously was before the tenant took over. A landlord simply wants their house as good as they handed it over at the start of the tenure. And when they get it back in a much better condition, they have absolutely nothing to complain about.
Bond cleaning is related to legal formalities. A tenant is supposed to leave the house in a good condition as prescribed by the landlord at the time of occupation. Considering that the process has legal backing, a tenant needs a reliable and dedicated service that has proven experience in handling the task.
It is natural that people want to try it on their own. That is quite ok. It is comfortable to get ourselves a good cleaning liquid from a retail store, get the necessary tools and then attend to the cleaning process. The only roadblock is when we use the wrong chemicals on the wrong surface. Instead of removing the stain, it could actually add a new one. Flooring, carpets, couches etc need different kinds of cleaning solutions at different levels of concentration. While experimenting is a great quality, bond cleaning may not be the right place to try it.
We have to make sure that there is no deduction in the money either after the end of the lease cleaning. Ozclean is a professional cleaning service with a proven background. Our job is to make use of the right people, the right kind of tools and cleaning liquids. We then bank on the knowledge we acquired through our many successful assignments. This is quite different from what amateur companies and independent cleaning agents can achieve. As an established company, we make sure that certain standards are met while we are included in the deal. It is also our reputation that is at stake when something goes wrong. As a professional service, we like to maintain a 100 percent successful record.
Bond cleaning is not just mopping and sweeping. It is the process of doing whatever it takes to deliver the results. It doesn't matter that we have to perform pest removal, cobweb cleaning, attending kitchen, bathroom or laundry areas, we are equipped to handle all kinds of challenges. We can help with garage servicing, furnishing services and more to assure a smooth transition for our clients.
WE COVER ALL THE SUBURBS IN BRISBANE
When we say Brisbane, we mean every nook and corner of it. Our high quality, perfectly designed bond cleaning services are available at your doorstep in Brisbane and all nearby suburbs. We are just a phone call away.

FREQUENTLY ASKED QUESTIONS
Have doubts? Let us help you with the most frequently asked questions
The act of bond cleaning or end-of-lease clean is usually expected of a tenant as they move out of a rented vicinity. This condition stands legal in most cases and in the light of not executing it rightly, the landlord can make a deduction or acquisition over the tenant's bond money.
We provide general services like cleaning cobwebs and marks of pests, mopping, and vacuum cleaning. We also provide garage servicing, furnishing services. Not only that, but we also undertake cleaning your kitchen, bathroom, and laundry areas.
You can book an appointment anytime. We shall discuss the terms and conditions of the agreement to proceed without confusion. We also offer a 7-day guarantee service so that we can still fix any further issues post-inspection.
It is completely up to you. You can either provide us with a key or arrange to keep the door open for us. You are always welcome to be around as we clean the property. Your bond and property are completely safe with us, and you can stay tension-free.
Firstly we assure you that our cleaners handle your property with utmost care. It is also possible that certain items are prone to wear and tear leading to accidents even with utmost care. Still, if you are sure of the damage being irreversible and beyond repair, kindly read out to us stating your complaints with relevant proofs.
You can always ping our customer service executive to clarify any of your doubts regarding Bond Cleaning Services. We are always available to take your queries 24 hours a day even during weekends.
Yes, of course. Ozclean's Bond Cleaning Services can be booked for any day throughout the week. This is not just the case with our cleaning services. We are dedicated to providing you customer care and support as well all days a week.
The duration for completing a bond cleaning process depends upon the size of the property, the gravity of the damages that occurred, and the requirements mentioned in your agreement or contact form.
You can find the Get a Free Quote contact form on our official website. All you need to do is fill up the form and Ozclean's Customer Service Portal shall get back to you and provide you with free quotes.