Best Office Cleaners in Brisbane
Office cleaning is a prerequisite when it comes to regulating the best levels of productivity in your work environment. Ignoring its importance can be considered major negligence of the management, which results in creating bad impressions on clients and employees. Neater and cleaner workplaces ensure the well-being of the workers as well as urge them to come to the office regularly. Unhealthy workplaces can cause health problems among employees and this will limit them from putting their best energy and skills at work. When employees start to fall ill frequently, the attendance structure of the office will also start declining. All of this contributes towards a downward trend in the work structure within the office bringing great loss to the company. Office and workplace cleaning are very time-consuming and energy-consuming tasks.
This is because commercial cleaning is not limited to the floors but also includes cleaning office equipment, getting rid of stains, dirt, and marks, doors, toilets, etc. Ozclean delivers the best Office Cleaning Services in Brisbane. Our unbeatable service quality in commercial cleaning in Brisbane and commitment to the work have made us one of the best commercial cleaners in Brisbane and all its suburbs. We understand the concerns of every individual customer and their office cleaning requirements in detail. This way, you get to find a package that suits your requirements perfectly and at the same time is affordable to you. Since Ozclean maintains a customer care centre that runs all day long throughout the week, booking our services for any time of the week and any time of the day will not be a problem for you.
During the industrial cleaning process, it is important to make sure that the costly electronic equipment is not mishandled. Our experienced staff are well versed with different types of delicate office equipment and take acute care while handling them. This is why we provide one of the best commercial cleaning jobs in Brisbane. What We Do?
Ozclean offers custom office cleaning services in Brisbane and the suburbs. Our experienced staff are well trained to behave and perform in an office environment
Why Call Ozclean For Office Cleaning?

Comprehensive Office Cleaning
Our office cleaning services in Brisbane come in an all-encompassing package that covers high-touch areas, workstations, restrooms, canteen spaces, and wash areas. We make sure to perform our 100% to help you attain that flawless look for your commercial building. Our team comprises the best and expert office cleaners who never procrastinate during work hours.

Budget Accommodative Quotes
Commercial cleaning and office cleaning is an integral service and we know how important the service is to our clients. To us, the customer is of great importance so we accommodate your worries and provide you with free and affordable service quotes. Our free inspection services will help you understand the areas that need cleaning and attention.

Reliable Service & Support
Ozclean's expert cleaners, as well as efficient customer care executives, will be at your service without having to worry about any time constraints. The team at Ozclean functions 24 hours for assistance and service and you can avail yourself of even weekend services at reasonable rates. You can also avail of the weekend day cleaning as well without any additional cost.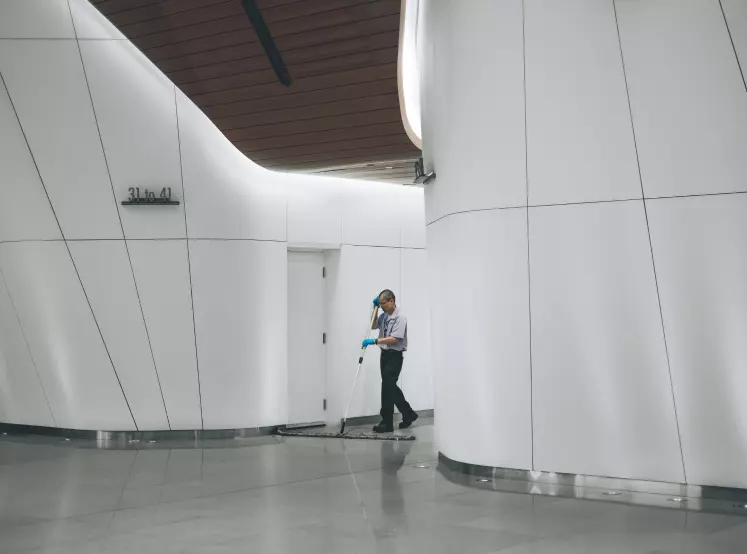 AFFORDABLE OFFICE CLEANING IN BRISBANE
Brisbane is one of the cities in Australia with a thriving population. The place has a large working population. The population structure of its working population covers almost all areas of the primary, secondary, and tertiary rector. With more and more people inhabiting the city of Brisbane, the working population of the city too increases. Therefore, it is important to provide a good working environment for people in Brisbane. With more and more industrial establishments rising, businesses too will experience competition. If people find workstations and offices unclean and unhygienic, chances are that they will quit their jobs and look for cleaner offices. We understand the population of Brisbane and therefore our team will have an intense idea of what people are looking out for. This enables us to deliver commercial cleaning services that cater to the needs of office authorities as well as employees. We know how certain companies become hesitant to hire commercial cleaning companies due to the higher rate of service charges. To ensure that you get to avail of our services without having to face the fear of budget, Ozclean provides customized office cleaning packages to offices in Brisbane. This way, offices can avail of our services without the burden of paying a huge amount for cleaning.
OUR OFFICE CLEANING SERVICE PROCESS

STEP 1
Fill up the contact form – FREE QUOTE to reach out to our team.
In no time you will receive a call back from our team.
Our team will ask you the whereabouts of your office and if you wish, you may ask for our free inspection service in Brisbane.
According to the insights received, our team will calculate the quotations.

STEP 2
You can easily chart an appointment according to yo your convenience.
We will reach your office and will be working in accordance with our approved checklist alongside your personalized requirements.
Customers can also choose the preferred services on request.
Our office cleaning services in Brisbane include the process of sterilizing, sanitizing, and disinfection.

STEP 3
You can choose your required bookings, be it daily cleaning, fortnight, or weekly cleaning services completely according to your convenience.
We take great care in handling all equipment in the office and you can be assured from having to encounter any damages from our side.
A final round of inspections is done after completing the clean-up to ensure that the services are performed perfectly according to your preferences.
Just in case you feel like we have missed out on something, our team will fix them immediately without charging you additional prices.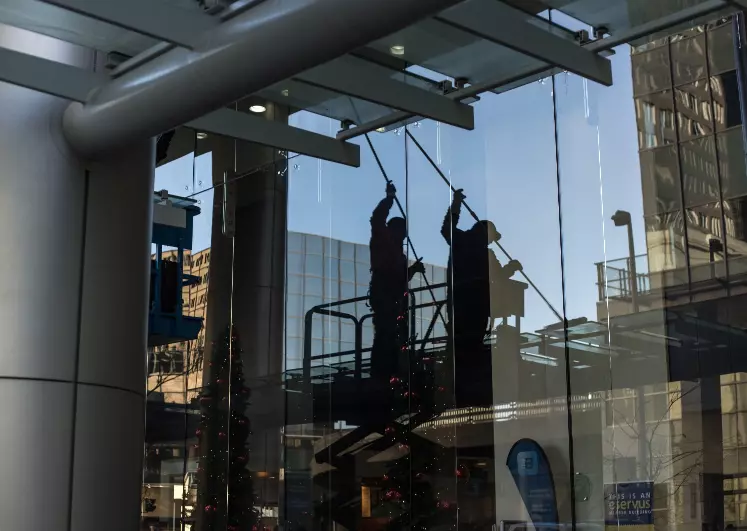 HIGH TOUCH AREAS OUR SERVICES COVER
Waiting rooms, entrance premises, reception area
Kitchen and Canteen area along with equipment
Workstation, including all equipment and furniture
Handrails and Door Knobs
Meeting rooms, conference and seminar halls
Toilets, restrooms, and locker rooms
VITAL STAGES OF CLEANING PROCESS

CLEANING
We ensure intense cleaning of all sorts of marks, dirt, rigid stains, and dust as part of our office cleaning jobs in Brisbane. These are cleaned from the surface and made to shine bright. Our team of office cleaners in Brisbane understands the nature of each damage in your office and cleans them with the right solutions and cleaning agents. We also do commercial floor cleaning as part of our building cleaning services.

DISINFECTION
To ensure that the clean office is safe from allergens, and several other disease-causing pathogens, disinfecting solutions are applied to clean surfaces. This is done with great efficiency to ensure that the area is completely free from toxins as even some chemicals can cause allergies and irritations. We make sure to use effective disinfectants to kill these germs.

STERILIZING
Double-checking the cleaned surfaces is important to ensure safety and security after cleaning. To ensure that, we carry out the process of sterilizing. This is another effective method in which germs and microbes are killed from harming the ones in the office premises. Autoclave or heal is effectively administered to kill these disease-causing microbes making the place completely safe to work.

SANITIZING
After carrying out comprehensive cleaning, the finishing touches are completed along with the process of sanitizing. The area is furthermore sanitized and finished off to ensure that the office space is completely free from any sort of residual micro-organisms. This assures that the area is completely safe and secure from microbes and germs.
WE COVER ALL THE SUBURBS IN BRISBANE
When we say Brisbane, we mean every nook and corner of it. Our high quality, perfectly designed bond cleaning services are available at your doorstep in Brisbane and all nearby suburbs. We are just a phone call away.

FREQUENTLY ASKED QUESTIONS
Office cleaning is always easy with Ozclean by your side. Let us help you with some frequently asked doubts
Intensive cleaning is essential for cleaning offices or commercial buildings since these are locations with lots of foot traffic and social interaction. Additionally, one must have expert expertise when cleaning because there may be equipment that needs to be cleaned with extreme caution. Therefore, it's crucial to hire qualified commercial cleaners to guarantee absolute cleanliness and hygienic conditions.
Our trained staff will thoroughly clean every surface in your office, even the high-touch areas. When you contact us for office cleaning, you can let us know if you have any specific cleaning requirements, and our team will include those in your office cleaning package. Our office cleaning service packages in Brisbane include cleaning reception areas, restrooms, workstations, kitchen and pantry sections, toilets, etc.
Our office cleaning service costs are determined by considering the size of your commercial facility, any damages or other issues, the package you choose, etc. To get a general idea of the price, you can use our Free Inspection and Free Quote services. You have two options throughout this process: either give complete information about your office or request a free inspection service.
Our crew of office cleaners at Ozclean is well-equipped with upgraded equipment and knowledge. This means that your company will not have to provide any supplies. You need not worry about anything because we will provide the correct supplies needed to clean your office. We pledge to give you a pristine, clean space as quickly as we can and at a reasonable cost.
Our reservations and cleaning schedules are typically highly flexible depending on the needs of the client. You can book your office cleaning appointment whenever you like and in case you feel the need to reschedule the same, you can reach out to Ozclean to get your appointment rescheduled to a date and time that is convenient for you. You can also make reservations for the weekends without incurring any additional fees.
Office cleaning is a time-consuming process that depends on several factors. The size of the office space affects how long it takes to clean the office. The time taken will also be influenced by other variables, such as client demands, additional services (if any), the availability of different amenities to clean, etc. You can get in touch with our staff and take advantage of our free inspection service if you want to get an approximate time.