BUDGET ACCOMMODATIVE CAR UPHOLSTERY CLEANING SERVICE BRISBANE
Thinking about whether to get your car upholstery cleaned by a professional? Then do not hesitate to get help from a car upholstery cleaning service in Brisbane like Ozclean. Cars are an inevitable part of the lives of the people of Brisbane. The growing capital city is bustling with people, traffic, and activities. People are always on the move for work, leisure, and life. You spend most of your time in your car other than your house and office. It is a place where all your family and friends get together with you. Since the interior of a car is a closed space, the seats and carpets in the car can get dirty fast. Even if the car looks clean and you use good air fresheners, there is a chance that it smells bad. It is necessary to keep the interior of the car clean and fresh.
Getting a routine professional touch-up cleaning job is an all-time better option than a complete change of car seatings in the future. Get Ozclean Car seat cleaning service to retain the novelty of your car by deep car upholstery cleaning services by extracting the buried dust particles from tight gaps and crevasses. Our upholstery cleaning services consist of stain removal, vacuuming, carpet cleaning, seat washing, and scrubbing by well-trained technicians. For fabric like leather, treatment consists of using products that are completely non-toxic. It's never too late to take action to retrieve your spotless clean car by superior car upholstery cleaning at Ozclean at an affordable price. Why Choose Ozclean Cleaning Services?

Hi-Tech Equipment
We have advanced equipment and expertise in the car seat cleaning field. We stay updated with technology and use the best tools, shampoos, and equipment in the market to provide high-quality service to our customers. With years of experience and well-trained staff, we can preserve the pristine nature of the leather, polyester, or cloth fabric of the car seatings.

Customized Car Seat Cleaning Packages
Personalized cleaning services for car seats are our unique selling point. Over time with regular usage, your car seats may get discolored or damaged in several ways. Cars and car seatings are available in different price ranges. The quality of the fabric and seatings also vary accordingly. Our car upholstery and seat cleaning experts are trained to use the best ways to clean each type of fabric used in your upholstery. We offer customized packages at the best prices according to your car upholstery and seat cleaning needs.

Online Booking Services
We make sure that we are available for our customers anytime so that they can reach us out for their cleaning needs. So, we have an online booking service where you can request a free quote by signing up a form on our website for any cleaning needs. You can go to our website to get a free quote on your customized car upholstery cleaning Services anytime anywhere in Brisbane.

Reliable Response to Service Calls
We have a customer service department with a 24-hour assistance policy. Our customer service executives are available any time you have a cleaning need with our 24X7 service. You don't need to worry about accidental spills or children making the car dirty. You can contact us in case of emergencies and, we will provide you swift cleaning services. If you sign up for a quote on our website, we get back to our customers with instant calls offering timely and prompt assistance.

Free Coating
Car interiors can get dirty fast and are always at the risk of spills, children, and pets. We make sure that our customers are entirely happy with their car after availing of our cleaning service. So, we also provide a free coating service on car upholstery to protect from spills and stains. So next time you get your car seats cleaned, come to Ozclean and get a clean and protective coated car seat.
Our Cleaning Procedure
Our car upholstery cleaning service aims to create a whole new and fresh vibe in the car interior after our cleaning service by spotlessly cleaning the dull and dirty car seats, ceilings, and carpets. Our power vacuuming and hot water cleaning technique are used to remove the dirt, stains, and germs stuck on your seats. We have a professional service process that ensures that your car interior is made as good as new.
Step 1 – Our professionals inspect your car and understand the fabric, condition, and quality of your seatings and upholstery to decide the cleaning process. We will let you know the cost and decides the time according to your convenience.
Step 2 – We start with vacuuming. Vacuuming the car helps to remove loose particles using bristle-free upholstery, vacuum cleaner, and a crevice tool. We dump off the dust on the floor mats and thoroughly clean them.
Step 3 – Our professionals vacuum the floor again to remove the loose dust and waste on the floor surface to pull out the stuck debris. Run the same process over the carpet and all edges.
Step 4 – We wash the interior using our special cleaning products and car shampoo. We pre-treat the stains, clean the soapy floor with water and suck the existing water using a vacuum cleaner.
Step 5 – Your car seats might be made of leather, faux leather, nylon, polyester, vinyl, or cloth. Our professionals know the right method to clean any type of fabric, seat, and car. Our experienced professionals thoroughly clean the seat of your car, scrub the dirt and wipe away the moisture.
Step 6 – After cleaning the seats, we condition the upholstery, dry the seats. As the ultimate step is to attain clear and clean interiors, we give the protective coating to the seats. As the final finish, we make sure that the odor is removed and it smells fresh inside.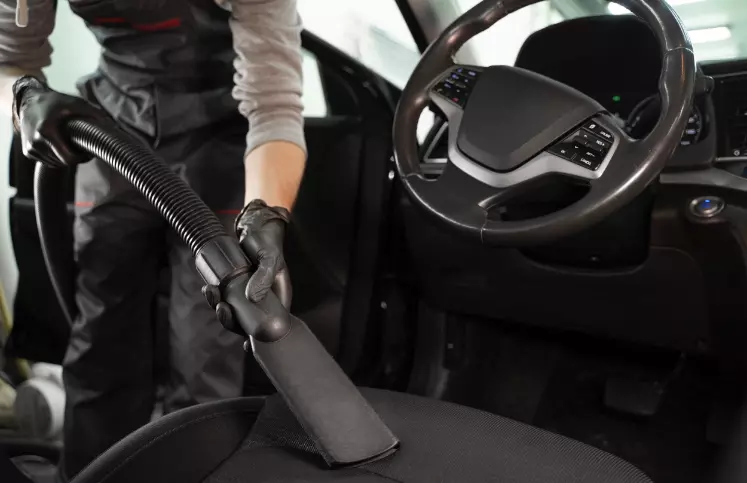 Why is car upholstery cleaning is significant?
Regular vacuuming cannot eliminate what lurks in your car and the germs you have on the car surface. The undetectable dust mites causing high allergic problems and the soggy seats and spills which are a major breeding ground for germs that could be ten times more hazardous than a toilet seat. The bad odor inside a car can be suffocating and nauseous. Traveling regularly in a vehicle like that can cause health issues. The interior of the car has to be maintained clean and fresh to ensure good air quality. Seats have to be cleaned regularly if you have pets and children because the chances of getting the car dirty and filled with germs fast are high.
To extend the lifespan of your car seats, you need to get the seatings and upholstery of your car professionally cleaned once in a while. We at Ozclean cares for your car seats. Seats can wear off with usage and lose color and comfort. A professional car seat and upholstery cleaner can help you with this. Whether it is leather, faux leather, vinyl, polyester, or cloth, we will clean it spotlessly for you and restore its comfort. Get our affordable and swift car upholstery cleaning service from anywhere in Brisbane.
Read More
Our Cleaning Services

Leather Seat Cleaning
Leather cleaning is no more an uncomplicated job but when it comes to Ozclean car upholstery cleaning service, we provide hygienic and intensive cleaning by taking care of the defaced seat parts which form an essential part of the cleaning process.

Car Accessory Cleaning
With advanced tools and skilled manpower, Ozclean protects the car by eradicating hard stains through comprehensive cleaning by getting into every nook of the car.

Odor Elimination
Our dedicated cleaning team uses eco-friendly products which help in extracting any kind of unpleasant smell and pet stains by deep cleaning along with the aromatizing agents into the grooves of leather seats.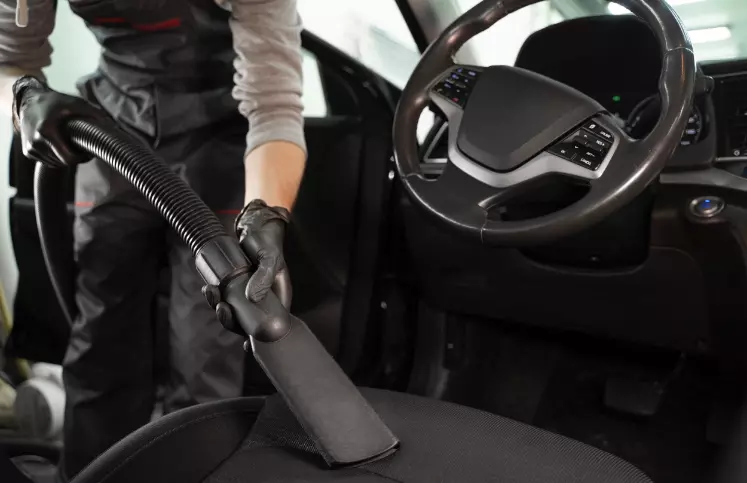 Benefits of Professional Car Upholstery Cleaning
Cars can receive the benefits of steam cleaning which ensures cleaning without any scratches by safeguarding the electronics.
For a hygienic setting that is completely safe for children and asthma suffers.
Stinky cars are no fun! It can affect mental and physical health. Fresh and clean interiors of car that are professionally cleaned, elevates the mood.
To add value to its selling price, the upkeep of the car and its seatings are important. Clean mirrors and windows are vital for reducing the probability of accidents.
WE COVER ALL THE SUBURBS IN BRISBANE
When we say Brisbane, we mean every nook and corner of it. Our high quality, perfectly designed bond cleaning services are available at your doorstep in Brisbane and all nearby suburbs. We are just a phone call away.

Frequently Asked Questions
We recommend every 4-6 months which is two to three times a year. Car upholstery cleaning depends on the customer and the car. The more times you clean the car, the better condition your car will be.
Most car-cleaning companies recommend trying 303 fabric guard or spot cleaner with the help of glass cleaners, scrub brushes, vacuum, microfiber cloth, and the list goes on.