OZCLEAN FOR YOUR BEST EXTERNAL HOUSE WASH SERVICE IN BRISBANE
Does the thought of bearing the expense of repainting and the pungent smell of paint stop you from renovating your exterior walls? Well, Ozclean offers you the best house washing services in Brisbane, elite class services at pocket-friendly budgets. Your house is the place where you go after a long day and make you feel at home. A house with a good curb appeal that welcomes you every day is anyone's dream. It is why you consider all the best options under the budget when you buy a house. Most people take extra care when keeping their interiors clean but often neglect the exterior until too late. Algae, molds, cobwebs, and discoloration affects your home and, the house loses its appeal. You might have worried about the cost of reworking the exteriors of the house or do not have time for cleaning your exterior due to your busy schedule.
Sometimes your house might not need a repaint. It might just need a good wash. Even if you want to repaint the house, it is good to have it prewashed before painting. Hiring a professional exterior house washing service can help you get the right treatment that your house exactly needs to be revamped. Ozclean has been providing house washing services in Brisbane for years and our experts can do the external house washing for you and make it good as new. Our cleaners are well-trained and equipped to analyze the nature of your wall and providing it the best. From removing the build-ups and dirt to clearing out eaves, decks, molds, gutters, etc we make sure to deliver your services to your need. Who doesn't want to upgrade their dull-looking, stained walls? Why Choose Us?

Complete Revamp for your Exterior Walls
Do you remember the house that you moved into? Our cleaning experts aim to give the same appeal to your house once the cleaning is done. We are committed to making your living space look brand new and flawless. You will not have to worry about the whole task of getting your exterior walls repainted. Our team of expert cleaners got your back and making your exterior walls spotlessly clean.

Pocket-friendly Services
We make no compromises on the quality of services that we deliver. At the same time, we make sure that our clients are able to afford our services without having budget constraints. We never charge you any hidden charges or additional charges apart from the quotes. You can also book our services for weekends without paying any extra cost. Once you book a free quote, we will come and inspect your house free of cost and decide the charges based on the requirements only.

Customer-friendly Services
We realize the needs of our customers and the value of their time. Therefore, we make sure to make ourselves available to you when you need us. Our cleaning services and customer care assistance can be availed by you anytime anywhere in Brisbane. Our executives will come and inspect your house and provide you all the guidelines before washing the exterior. We function all days a week 24*7.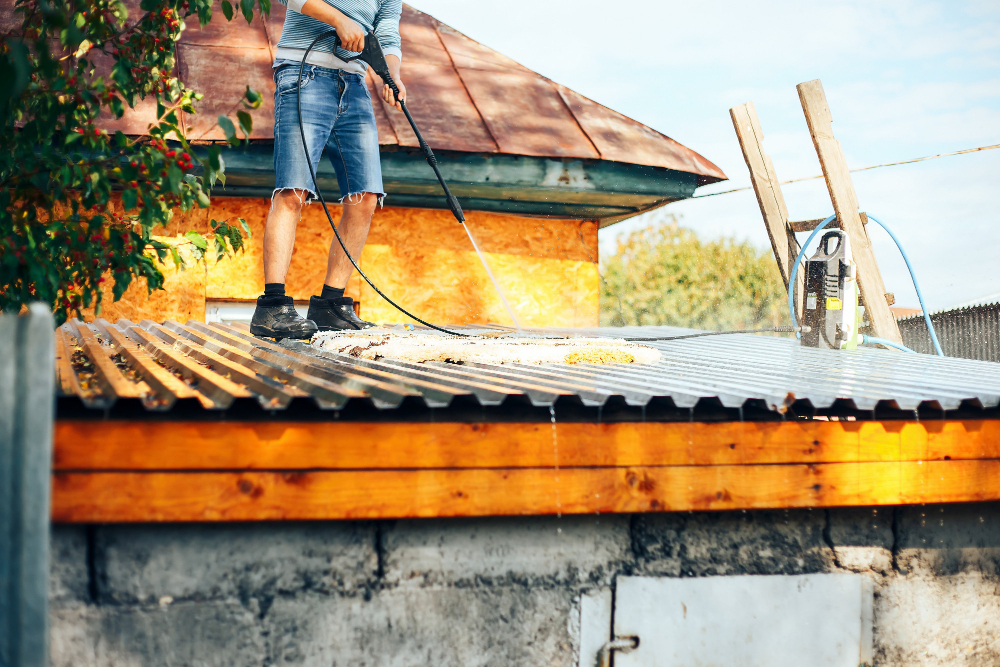 Exterior House Washing in Brisbane
Ozclean has been addressing and solving the cleaning needs of Brisbane for years. We are familiar with the people and the houses of Brisbane very well. This makes it easy for us to understand what people of Brisbane expect out of a house washing service. We make sure to understand the nature of your buildings and exterior walls before formulating and confirming the right techniques for them. Our cleaning professionals will inspect your house first. We make note of the specific requirements and conditions like external power lines, materials used. We plan the exterior house washing with extreme care and caution as any mistake can affect the state and safety of the house. We provide both pressure washing and soft washing services as part of our exterior house washing services in Brisbane.
Read More
Based on the inspection by our experts, we decide on the right techniques and charges for washing your house. We generally provide pressure washing for hard surfaces like concrete and stone pathways. Soft wash applies lesser pressure and is done on surfaces like vinyl and wood sidings that need delicate care. We take the necessary safety precautions before cleaning and make sure that algae, grime, stains are all removed completely. Ozclean provides an affordable house washing service in Brisbane without compromising the quality. We provide you assurance in the areas of expert services, top-notch cleaning equipment, and techniques, quality customer care services. We value customer satisfaction the most and make sure that you are satisfied with our services through an inspection after exterior washing. Our cleaners are all professionally trained and they can provide you with a hassle-free and swift house washing service. Our services are available everywhere in Brisbane and its suburbs at any time of the day. We have an extensive network of cleaners who are ever ready to clean your house and surroundings wherever you are in Brisbane. All you have to do is to pick up your phone and give us a call or just sign up for a free quote on our website. Our executives will get back to you soon and help you with the entire process.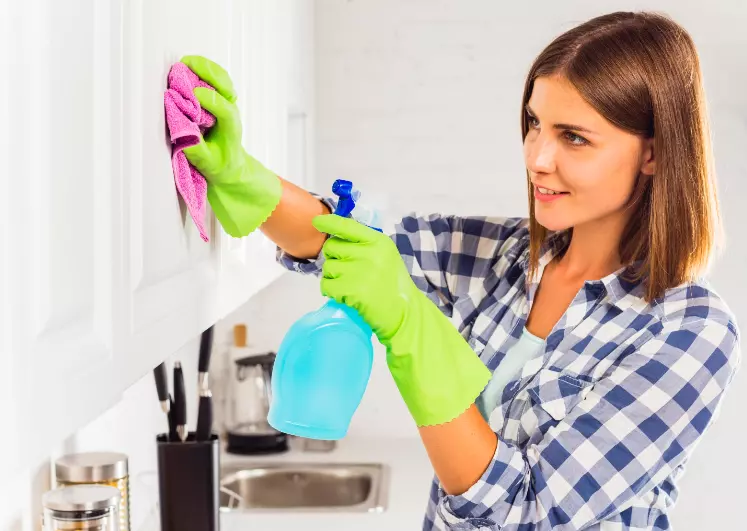 Why Get the Exterior of Your House Washed Professionally?
A house is not just any building but a home that you grow in. It is a safe haven for your family. Hence, keeping it clean and healthy is a top priority. People are very careful about keeping the interior of the house clean and healthy. But, how long has it been since you have your house washed or cleaned? Your exterior walls and roofs protect your house from harsh climate and weather. This affects the color, appeal, and state of the exterior areas of the house and wears away with time. Over time there can be cracks and crevices on different parts through which water can seep in and cause damage. This can affect the structure and safety of the house.
Read More
Algaes, mold, dust mites, and allergens can settle in the exterior parts of the house and pose various health hazards. If the exterior of your house has not been washed or cleaned for a long time, chances are there are slippery surfaces, cobwebs, stains, and allergens on it. Allergens, pests, pollens, and dust mites have the risk of causing respiratory diseases and allergies. If you are planning to repaint your house, it is necessary to prewash it. Pressure washing can help to prepare your house for a repaint. Sometimes, you might just need a good exterior house wash to reclaim the attractive look of your house.
If you are planning to sell your house, it is extremely important that you make a good first impression with the buyers. Washing the exterior of your house professionally can give it a better curb appeal. This also shows that your house is well maintained and adds value to your property. Washing the exterior of a house is tedious, tiring, and needs a lot of effort. Trying to wash your house by yourself might not always turn out in the right way. Pressure washing applies water on the surface If not done right, house washing can cause more damage than good. Professional exterior house washing experts are trained to handle any situation. They have the right solutions for every problem and also take appropriate safety measures before going for the clean. Periodically washing the exterior of your house can help you save money in the long run. Your house will stay attractive and healthy longer and, you can save repair charges and repainting costs. Are you worried about the condition of your exterior? Hire our professional exterior house washing services in Brisbane to get a clean, healthy, and beautiful-looking house.
How to prepare for Brisbane House Washing?
Evaluate your property
Getting to know the nature of your walls and your living space is quite effective when it comes to external home cleaning. Having an idea of the areas that need special focus when cleaning, places where we have to be extremely careful while cleaning, etc will make the whole process easy, safe and productive. Therefore, it is highly recommended that you have an idea of your exterior walls prior to our arrival. You can guide our executives while inspecting your property and, let them know about your specific requirements and areas to avoid.
Replace breakable and dangerous materials
We suggest that you replace any kinds of fragile, breakable, delicate objects in the areas we clean even though our cleaners are extremely careful about these. We also request you to take care of any sorts of objects that are hazardous or dangerous in nature. Make sure that you communicate with our cleaners about the condition of your home and any potential risks before the house washing process. This is to ensure the safety of your family as well as our cleaners.
Take Safety Precautions
Exterior house washing requires cleaning the complete external surface of your house and has to be done with extreme care. There are many safety considerations while washing the exterior of your house. This includes sealing openings, using eye protection, keeping pets and children safe The most important one is to switch off the external power and be wary of the external power lines. There is a risk of damage to your electrical system if this is not taken into account. You know your house best and you can help us take the necessary safety precautions.
Pressure Cleaning and Soft Cleaning
Pressure Cleaning
Pressure cleaning is one of the best approaches when you want to get rid of rigid, long-term, and stubborn stains and build-ups.
Along with making sure that the brightness and shine of your walls are re-installed and restored, pressure cleaning also makes sure not to pose any threat.
The method is quite safe, and it will not damage or cause any harm to your property, investments, or members in the building.
Pressure cleaning is also effective in getting rid of the elements that cause premature aging for your exterior walls.
Soft Wash Cleaning
The nature of walls keeps varying from one property to another, some are delicate, some may be coarse.
During the process of external house wash, it is important to adopt the right choice of method to prevent damaging your walls.
Our cleaners take extreme caution when handling your walls. Soft washing is thus safe when handling delicate walls.
It is done with low water pressure combined with detergents to restore your wall's brightness and freshness. Soft washing is preferred on walls of stone, vinyl, brick, stucco, etc.
Soft cleaning is completely safe, and it does not lead to any sort of permanent damage to your walls.
WE COVER ALL THE SUBURBS IN BRISBANE
When we say Brisbane, we mean every nook and corner of it. Our high quality, perfectly designed bond cleaning services are available at your doorstep in Brisbane and all nearby suburbs. We are just a phone call away.

Frequently Asked Questions
No. Your presence is not at all mandatory on the worksite. We suggest you spend your quality time while we make your building sparkling new. However, if you still want to watch us work, you can always stay.
The cost for availing of an exterior house washing service will be determined by the size of your residence, materials used in the exterior, and the condition of your house. You can visit our website and fill up the "Free Quote" form or reach out to us at 0400121121.