PROFICIENT GUTTER CLEANING IN BRISBANE
Gutters play a major role in keeping your home secure, hygienic, and beautiful. They are installed with every building to divert and channel rainwater properly and to prevent it from falling into the house. The problem starts when these gutters start getting deposited with leaves, buildups, sticks, or debris, thus blocking the pathway of water flow. Clogged gutters can also cause pest infestation. Rodents, bees, mosquitoes, etc., can make hide in the gutters and can cause infections. Clogged-up gutters can overflow and make your house dirty. Rust can also build up and damage the structure of the house. This is why gutters should be regularly cleaned and cleared. Gutter cleaning is a crucial process for ensuring the safety and hygiene of the house. It is always recommended to get the gutters and downpipes cleaned by professionals. Ozclean has been providing the most effective gutter cleaning service in Brisbane for years. With the team at Ozclean, you get elite-class Gutter Cleaning services in Brisbane at the most affordable rates. We offer 24*7 services, inspection and quotes free of cost, same-day services, and much more benefits. Why choose us for Gutter Cleaning?

All-Encompassing Services
We provide every kind of cleaning service in Brisbane and its suburbs. We make sure that our equipment and tools are up to date. Gutter cleaning is an important part of maintaining the hygiene of your house and it is also important in pest control. We have years of experience and expertise in cleaning the houses and buildings of Brisbane. So, we are familiar with the common issues and have the best solutions for gutter cleaning. We ensure that it is thoroughly cleaned and is functional. We find the right solutions to fix your gutters and make no compromises in the quality of our services whatsoever. Our team fixes your gutter removing all the unwanted moss, build-up, mud, sludge leaves that block the pathway of water in your gutters and downpipes. We also find causes for clogging the gutters and try to remove them permanently.

Cost-Effective Services
We aim to provide the most affordable and cost-effective gutter cleaning services in Brisbane and all of its suburbs. With us, you do not have to worry about bearing the burden of paying a large sum of money for professional gutter cleaning. Our prices are the best in the market and without compromising quality when it comes to cleaning. We have the best team and advanced technology that gets the job done efficiently which helps us to give budget-friendly services. You can fill up the free quote form and get to know what our service will cost. You can even avail of our free inspection service after which you can choose to get our service or not based on our charges.

Efficient Customer Care
We make sure that all our clients are satisfied with the services we deliver. Our team ensures 100% commitment and productivity when it comes to the work allotted to them. We have made ourselves accessible 24*7 to you all days a week. You can request a free quote for gutter cleaning on our website and avail of our free inspection service anytime. You can contact our customer service agents any time of the day on call and we will guide you through our gutter cleaning or any other service process. We will never charge you extra for services on weekends. Our professionals will re-do the work if you are not satisfied with the gutter cleaning service.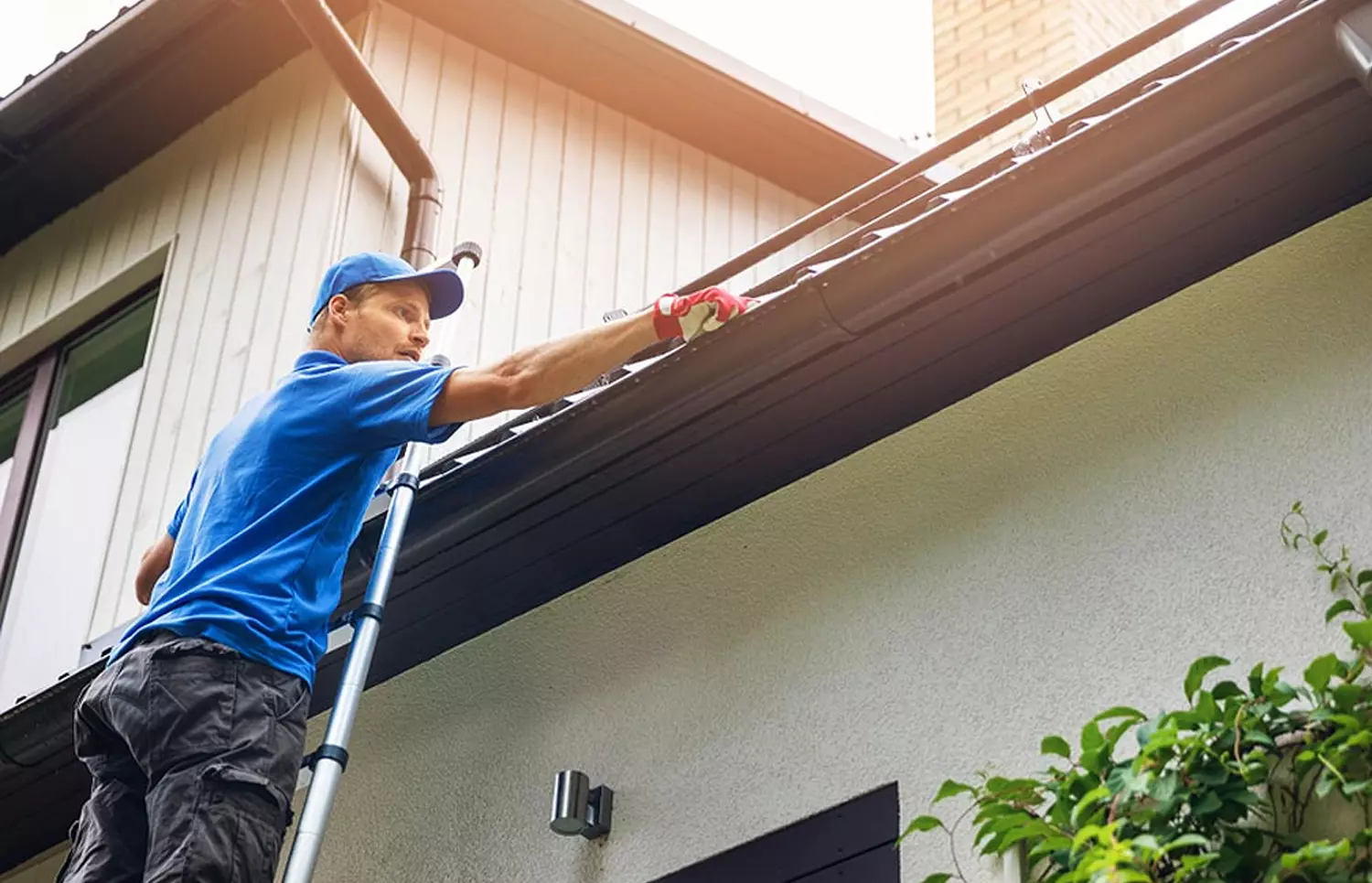 EXCLUSIVE BENEFITS FROM OZCLEAN GUTTER CLEANING SERVICES
We will give you an inspection and quotes free of cost on reaching out to us. Availing an inspection prior to cleaning helps to carry out an in-depth analysis of your property. This will be productive as it helps to identify the treatment required for each area.
We only hire well-trained professionals who know to take the right precautions and correct tactics when cleaning your downpipes and gutters.
We use the right techniques and cleaning practices to deliver the best cleaning for your gutter and downpipes. Ozclean is always committed to providing our clients the best. To achieve this we make sure to use specially engineered equipment and techniques.
We deliver your services in time and with efficiency. Through our services, we intend to let you save your time while we make sure to do your service. You can avail of our services any time of the day throughout the week.
We take extreme care and caution in handling your property while cleaning. We make sure that only experts handle delicate areas. Along with cleaning your gutters, we make sure to take them back to their functional state.
Read More
STEPS OF OUR GUTTER CLEANING PROCESS

Step 1
Fill up the FREE QUOTE form on the website or reach out to our customer care executives to get a callback.
They will discuss with you the issues you face, and you can ask all your queries related to gutter cleaning in Brisbane.
You can avail of our free inspection service if you wish to and our professionals will inspect the condition of your house and gutters.
During the inspection, they will also note down the points to consider and the necessary precautions needed to be taken.

Step 2
Ozclean's expert cleaners will arrive at your destination and will start with the process of gutter cleaning.
We provide services including gutter vacuuming, clearing downpipes, fixing your gutter guards, high-pressure cleaning, clearing of debris and sludge.
We also provide solutions to the causes of gutter clogging like cutting extended branches.

Step 3
We fix all the issues with your gutters and make sure to take them back to their functional state.
If you still need some extra cleaning, or if you feel like some areas still undergoes problems, reach out to us immediately.
Our expert cleaners will fix them for you free of cost.
WE COVER ALL THE SUBURBS IN BRISBANE
When we say Brisbane, we mean every nook and corner of it. Our high quality, perfectly designed bond cleaning services are available at your doorstep in Brisbane and all nearby suburbs. We are just a phone call away.

Frequently Asked Questions
We cannot really cite an exact cost for the service of gutter cleaning in Brisbane, without any knowledge about the property. You can call us and book a free inspection so that both parties will have a detailed idea of matters and areas that need to be fixed. Just fill up the FREE QUOTE option from our official website and our executives will give you an immediate call-back.
Your gutters will require to be cleaned during the autumns and after winters as the leaves will start to shed, blocking your gutters. So, in order to ensure the proper functioning of your gutters, we recommend you hire a professional gutter cleaning twice a year or at least once every year.