EFFICIENT TEAM OF MATTRESS CLEANERS IN BRISBANE
Healthy sleep is a factor determining the parameters of your mental health. A mattress that is not clean can be a breeding ground for endless germs, fungus, and bacteria. These can be pathogens that can cause several health hazards to you and your family. These germs along with residues of dead skin, urine, and sweat will cause odors that can disturb your sleep. Regular usage of mattresses for a long time can make them uncomfortable and unhealthy to sleep on. It is important to get your mattress cleaned by professional cleaners to ensure the health and hygiene of the mattress. Ozclean delivers to you the best mattress cleaning in Brisbane. We have the expertise to restore your mattress to a brand new state. You can ensure the health of your family by choosing our professional mattress cleaning service in Brisbane. Our efficient cleaning team is ever-ready to address the mattress cleaning needs of people in Brisbane. With our experience in cleaning mattresses and sanitizing them, you get your comfortable and well-rested nights back.
We can attend to mattresses of all sizes and make them fresh and new. Our mattress cleaning services in Brisbane are affordable, reliable and budget friendly. You can reach us 24x7 and book an appointment for a time slot that is convenient to you. Our customer care is available even on weekends so that you will never have to wait to process the order. We value your time and do everything in our power to make the whole process go smoothly.
Our team of experts are experienced professionals and can work with or without supervision. They are well trained to behave in residential as well are commercial projects. WHY CHOOSE OZCLEAN'S MATTRESS CLEANING?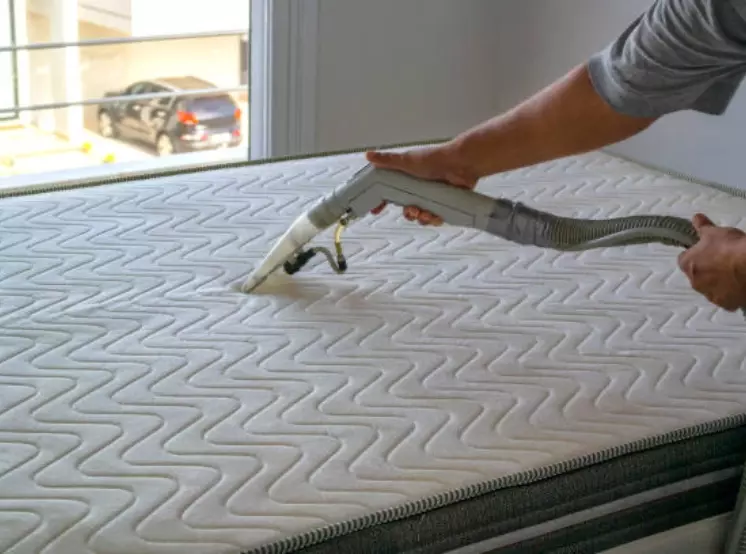 BENEFITS OF PROFESSIONAL MATTRESS CLEANING
Your sleep is a great determining factor in the lifestyle you live. When you get a good night's sleep on a clean and hygienic mattress, you wake up the next day feeling fresh. Therefore your mattress can kickstart a good start to your day. So, keeping your mattress in perfect condition is essential for your mental and physical health. Most people invest in good mattresses considering this. But, the comfort and coziness of your new mattress won't last long if you don't take proper care of it. You might be changing your beddings regularly, vacuum cleaning the bed, and using DIY tricks for removing accidental stains, but you cannot retain the mattress in its best condition with that alone.
Read More
You need the help of a professional mattress cleaner to ensure a longer life for your mattress. We use mattresses every day and dust from our body can accumulate over time. Sweat, coffee spills, urine, pet furs can cause odor and allergy. These cannot be cleaned or removed completely by normal cleaning. Professional cleaners have the latest equipment, high-quality cleaning solutions, and techniques. These can be costly and it is not practical for common people to buy such equipment for mattress cleaning. So, even if you are someone who regularly cleans your mattress by yourself, getting the mattress professionally cleaned at least twice a year can retain its condition. Since Brisbane is a growing city, people are busy with everyday life and work. If you are a busy person who doesn't have time for cleaning your mattress, getting the help of a professional mattress cleaner more often can take care of your sleep and rest.
It is always better to hire a professional mattress cleaner to remove the accidental coffee stains, pet urine, and feces on your mattress. Trying to clean it yourself with baking soda and other tricks might damage your mattress and cause more trouble. Professional mattress cleaners like Ozclean provide services 24×7 and can help you get that tough stain out of your mishap and save your day fast. Cleaning is not just about dust and dirt in the mattress. Bed bugs, bacteria, and mites are some of the parasites that can disturb your sleep and affect your health. If left untreated, they can multiply and damage your mattress and health. Professional mattress cleaners know the best methods and the right technology to effectively remove these pests without damaging your mattress. To restore hygiene, they will also sanitize the mattress after cleaning it.
We at Ozclean invest our manpower in the right cleaning processes and work in its full capacity to restore your good sleep. We try to incorporate revolutionary aromatherapy in our cleaning process. Our final steps include deodorizing your mattress with aromatic lavender extracts to give you a relaxed feeling when using the mattress. Our high-powered vacuum cleaning and steam cleaning service make your mattress free from dust, dirt, and molds. We ensure that your mattress is ready for you by cleaning, sanitizing, and deodorizing it so that you can go about having your perfect day after a good night's sleep.
GENERAL MATTRESS CLEANING PROCESSES
STEP 1
We recommend you to carry out an in-depth check on the state of your mattress.
Understanding the condition and nature of your mattress will be of great help when it comes to formulating the right techniques for cleaning them.
We provide a free inspection service and you can reach out to us to avail of it. We clean all sizes of beds, be it king-size, double-size, queen-size, or single-size.
STEP 2
We undertake vacuum cleaning of your mattress to clean out the dust, dirt, and stains from the interior layers of the bed.
The vacuum cleaning method is effective in cleaning out physical particles like molds, dust, or dirt.
Apart from vacuum cleaning, we use other cleaning methods depending on the nature and texture of your mattress.
STEP 3
Cleaning is incomplete with the process of decontamination. This process is integral as it ensures that your mattress is free from all sorts of germs and microbes.
This process will help prevent you from getting allergies to the mattress.
It is then followed by services like neutralization, deodorization, and sanitization.
STEP 4
We use the best technology tools and machinery to dry out your mattress.
This is a crucial process because incomplete drying can damage the foam in your mattress. It will also lead to the breeding of microbes and germs inside the mattress.
Our team makes sure that your mattress is completely clean, secure, and in perfect condition.
WE COVER ALL THE SUBURBS IN BRISBANE
When we say Brisbane, we mean every nook and corner of it. Our high quality, perfectly designed bond cleaning services are available at your doorstep in Brisbane and all nearby suburbs. We are just a phone call away.

Frequently Asked Questions
Sadly we do not repair or replace any damaged foam. We only perform in-depth cleaning of your mattress to make sure it's clean and decontaminated. We also infuse your mattress with lavender oils, deodorize it, and sanitize your mattress.
No. We provide free inspection for any cleaning service that you need and you can avail of them easily by reaching out to us through signing up on our website or giving us a call anytime. We can provide you with an inspection before and after the cleaning so that you can ensure that your mattress is in its fully functional state after our cleaning.
Yes, we can. Our cleaning team uses the best-in-the-market tools to make sure that your valuable mattresses get the care it deserves, along with cleaning them thoroughly. The Hot Water Extraction (HWE) method is something we specialize in, which is exactly what we need to clean a memory foam mattress.
You have to clean your mattress by yourself, but that alone won't be enough. More often than not, cleaning mattresses by oneself can be a very difficult and time-consuming task. If done in the wrong way, it can cause more harm than good to your mattress. This is why we recommend you to look for the help of professional cleaners who has the right tools and experience to do the same.
It changes from person to person. Some mattresses may need the help of professional cleaners once in six months while some need it every two months. It depends on how one uses the mattress, how it is taken care of and how many people use it. Once you feel like your mattress needs extra cleaning, it is time for you to seek the help of professional cleaners.
The time taken for a mattress to dry depends on the method used to clean it. If the mattress is cleaned using the method of hot water extraction, it would dry a lot faster. On the other hand, if the mattress is steam cleaned, it may take somewhere around 4 to 6 hours for it to be ready for use. The level of humidity also plays a big role in it.