COMPREHENSIVE CURTAIN CLEANING BRISBANE
The way your curtains and blinds are kept will have a role in deciding how appealing your property looks. Ozclean's Curtain Cleaning in Brisbane offers customized cleaning solutions based on the nature and quality of your curtain fabric. We make sure that your curtains and blinds are cleaned, sanitized, and deodorized to revamp your space. Our services make sure that you and your dear ones stay away from the health issues unclean curtains pose. Your well-being is always our priority. WHY CHOOSE OZCLEAN CLEANING?

100% Clean Guarantee
Our satisfied list of clientele proofs the point that we invest 100% of our resources to deliver the best curtain cleaning experience to all our clients. To guarantee the quality of results we take in only the best and expert cleaners in our squad. They will make your curtains shine just as new.

Pricing that fits every budget
With the quality of services that we offer, we also make sure to see that a majority population in Brisbane gets to afford our services. Our quotes were made extremely affordable, free of any hidden costs or additional charges. You can avail of our weekend day services without having to pay any extra.

Anytime Assistance and Service
Customer assistance and services are incomplete or irrelevant if they are not provided or accessible on time. We cover that too. Our customer care services are available and functional throughout the week for 24 hours. In case of emergency situations, we do provide you services right away.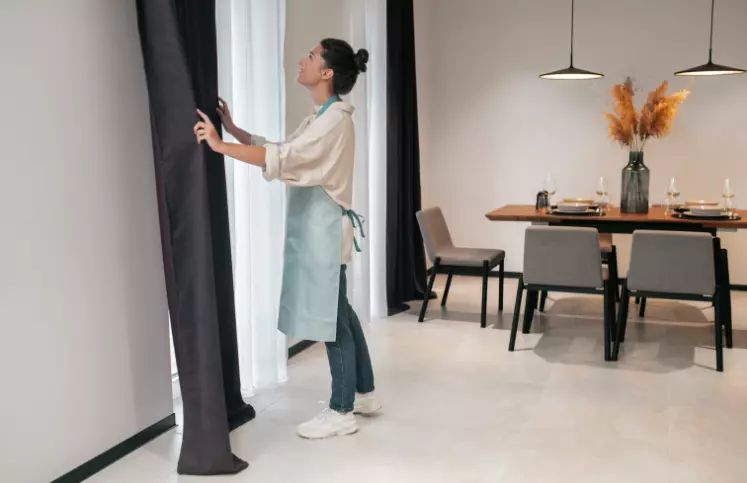 WHY HIRE PRO CLEANERS
Curtain and blind fabrics usually develop the tendency to attract and carry dust and dirt with allergen properties. These could be pollens that cause allergies in most people.
Curtain fabrics also tend to corrode and cause fabric dust that can aggravate skin irritations causing rashes, pimples, or breakouts.
The air coming from your windows passes through the curtains and blinds. All the dust the air carrier will get caught in these and they will worsen without regular cleaning.
To ensure the durability of your curtains and blinds, curtain cleaning is a very important and necessary step.
What We Offer
Pre Cleaning Analysis
We will require to know the details and state of your curtain and blind fabrics prior to the cleaning. This is to formulate the right measures required to clean them effectively. To help you in figuring out these, we do provide a free inspection service that you can avail of if required.
Targeting Stains
The cleaning process will kickstart with treating the stains first. Our team will figure out all the stains in your curtains and blinds and fix them using the best cleaning solutions. These stains will vanish without causing any damage to your fabric.
Cleaning Procedures
We resort to both steam and dry cleaning procedures according to its requirement. Steam cleaning is usually used in extracting dirt from deep layers of your fabric. We make sure to clean them ensuring that the freshness is restored.
Finishing Checks
Customer satisfaction is our top priority and we make sure that our procedures are completed with impeccable results. We inspect the cleaned curtains and blinds to ensure that they are in perfect form. You can always reach out to Ozclean if you need our guidance after the procedure.
WE COVER ALL THE SUBURBS IN BRISBANE
When we say Brisbane, we mean every nook and corner of it. Our high quality, perfectly designed bond cleaning services are available at your doorstep in Brisbane and all nearby suburbs. We are just a phone call away.

Frequently Asked Questions
Curtains play a big role in deciding the ambience of the room. It is more than dust and dirt we need to deal with. When unattended they can also cause allergies. It is best left to experts for better results and to prevent any damage to the fabric.
No, our rates are very much in the affordable spectrum. Our transparent services make sure that there are no hidden charges. Plus, our weekend services do not charge anything extra.