House Cleaners in Brisbane at your doorstep
Finding the ideal house cleaning services in Brisbane is now much easier and profitable by partnering with Ozclean. With our assistance and service, customers will no more have to worry about the cleanliness and hygiene of their homes. Our team of experienced, committed and well-trained cleaners have been successful in assuring customer satisfaction with all our house cleaning services in Brisbane to date. The task of regular house cleaning might sound easy to many people, and you might even think of doing it on your own. This is not a bad idea at all. But only a professional cleaning service can ensure quality cleaning and efficiency in terms of perfection. Ozclean makes sure your place is made flawless and squeaky clean. By hiring a team of pro house cleaners like Ozclean, you can enjoy your quality time with your loved ones and at the same time ensure that your place is in tip-top condition. Our quality housekeeping staff at Brisbane makes sure to provide you with extensive regular house cleaning as well as deep cleaning or spring cleaning services. The house cleaning services offered by our team run from intervals like regular cleaning, weekly cleaning, fortnightly cleaning, monthly cleaning, etc. Apart from that, we also offer different types of cleaning services focusing on your house interior, wet areas, and kitchen area. This way, we ensure that each of our clients gets to avail themselves of the right packages of house cleaning within their budget requirements.
With Ozclean by your side, you will never again hesitate to invite guests to your home. Be it a weekend get-together or a formal party, your house will always be ready for your needs. From windows to floors, carpets to kitchen, we will ensure that your house is the comfortable living space you always wanted it to be. What We Do?
We cover every aspect of housing cleaning in Brisbane. From carpets to the kitchen, tough stains and spots in the bathroom, we fix them all at affordable rates
Why us for your domestic cleaning in brisbane?

Best Professional House Cleaners
The house cleaning services we deliver in Brisbane are of par excellent standards. This achievement of ours is facilitated by the way we have equipped our team with the best professional domestic cleaners. To make things even more perfect, they are also equipped with the best available tools and cleaning solutions in the market.

Budget-Friendly House Clean
All the services Ozclean provides to the residents of Brisbane will be of the best standards. But customers can be assured that hiring this is not going to be a heavy burden for you. Our team takes extreme care and caution in calculating service charges for our clients. We provide the most affordable quotes for our customers in Brisbane. The customized house cleaning services we provide are designed according to the specific needs of your house, making it more affordable, without compromising on the quality.

Quick Services and Assistance
Ozclean never keeps its customers waiting. We treat all our customers with utmost priority and concern. To make sure that our customers get the right assistance and service they are looking for, we regulate a 24*7 functioning customer care centre. This way, anyone can reach out to the team and avail of both services and assistance any time of the day.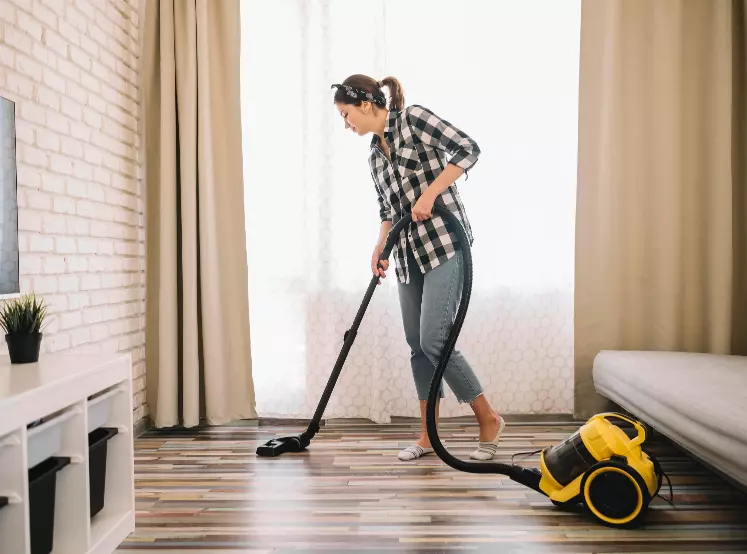 Your Perfect House Cleaning Partner in Brisbane
Brisbane is known for being one of the earliest cities in Australia. The city is a thriving location for many reasons. This has also facilitated the growth of Brisbane as one of the most preferred destinations for inhabitation in Australia. Queensland is the most populous city in Australia and Brisbane is the capital city of Queensland. This has also made Brisbane the third city in Australia to have the maximum population. Being classified as a global city, Brisbane experiences huge traffic in terms of population as well as in terms of people leading busy lives. Rapid developments and the inflow of inhabitants to Brisbane from other cities also facilitated this shift. All of this makes up Brisbane to be one of the most happening cities in Australia.
Read More
To be living in such an environment and structure might make people ignore cleanliness standards and hygiene levels. When the air of activity in Brisbane fuels up growth, people tend to get busier with their work-life and recreation and start to pay very little attention to house chores. But house cleaning is not something to be ignored. It is very important to live in a healthy home to ensure good quality and standards of life.
Ozclean understands the priority of its clients and structures its house cleaning services in the right way. Our primary aim is to ensure that all residents in Brisbane get to live their best life in a clean and hygienic house devoid of any illnesses. To satisfy and adhere to the needs of residents in Brisbane, we provide services that are specifically tailored to meet their customized demands.
By understanding the population we intend to serve, helps us improve the quality of work we deliver to the residents of Brisbane. We ensure that customers have access to our services and customer assistance whenever they desire. Ozclean maintains a 24*7 customer assistance centre that makes this possible for residents of Brisbane city. Our house cleaning services can also be availed on weekends at zero additional costs.
REGULAR HOME CLEANING TASKS

ALL AREAS
Dusting
Clearing Rubbish Bins
Vacuum Carpet.
Sweep & Mop Floors
Scrub & Clean Mirrors
Cobweb Removal

Wet Areas / Bath
Dust Cabinet Doors
Clean Countertops
Clean Shower Door
Scrub & Clean Toilets
Scrub & Clean Showers/Tubs
Scrub & Clean Sinks

Kitchen
Stove Top
Wipe Large Kitchen Appliances
Clean Countertops
Scrub and Disinfect The Sink
DEEP CLEAN OR SPRING CLEAN

ALL AREAS
Dusting
Empty Rubbish Bins
Vacuum Carpet
Sweep & Mop Floors
Clean Mirrors
Cobweb Removal
Baseboard Detail
Detail Doors/ Door Frames
Spot Clean Walls

Wet Areas / Bath
Dust Cabinet Doors
Clean Countertops
Vacuum Cleaning Rug Area
Inside Cabinet Cleaning
Clean Shower Door
Scrub & Clean Toilets
Scrub & Clean Showers/Tubs
Scrub & Clean Sinks

Kitchen
Stove Top
Wipe Clean Microwave
Wipe Large Kitchen Appliances
Clean Countertops
Scrub and Disinfect The Sink
Oven and Range hood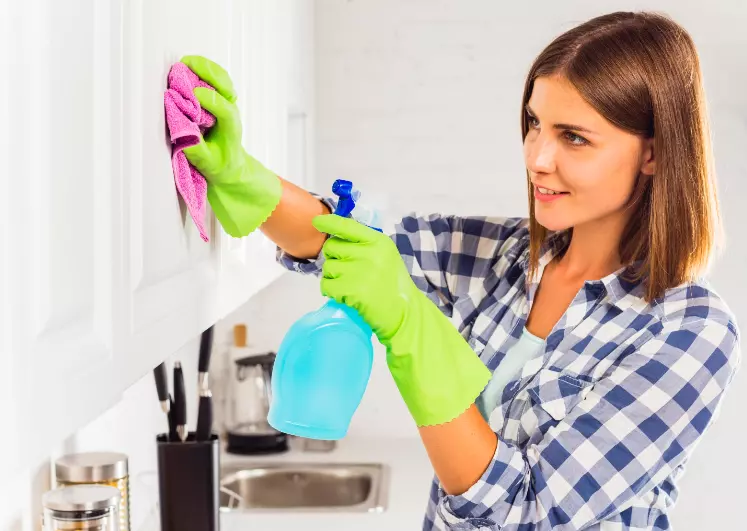 ADDITIONAL SERVICES WE OFFER IN BRISBANE
Ozclean is always there to provide you the services you require across all suburbs of Brisbane. In case you want us to meet more requirements, we are happy to let you know that we have a list of additional services that you can afford. These services will be out of your normal quote, and you will be charged extra for these.

Additional Services for Deep Clean or Spring Clean
Cleaning inside the Cabinets
Cleaning inside the Fridge
Cleaning interior Windows

Additional Services in Regular Cleaning
Cleaning inside the Cabinets
Cleaning inside the Fridge
Cleaning inside the Oven
Cleaning interior windows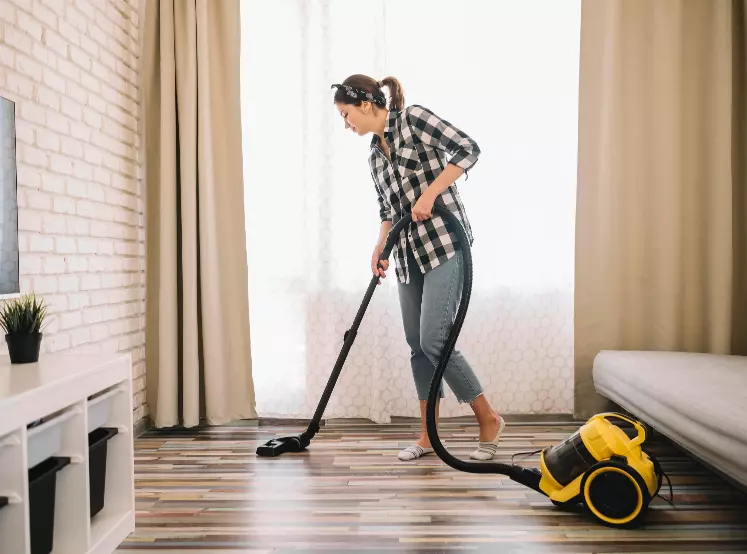 Why hire professional house cleaners?
House cleaning is something everyone should prioritize and complete at least on a weekly basis. Even though houses are required and expected to be cleaned on a daily basis, hectic lifestyles and work-life requirements might limit people from doing that on a regular basis. But what happens when you ignore doing house cleaning for a longer period? What if your light cleaning methods invite more build-ups and molds? If a lack of time and lack of interest is what limits you from performing a full-ledged house cleaning, then Ozclean is what can make things easier for you. By hiring professional cleaners, firstly you save a lot of time which is perhaps the most important factor. Secondly, you will not have the burden of arranging for the necessary tools and machines required for carrying out the process. Ozclean and its housekeepers in Brisbane are always equipped with cutting-edge tools available in the market. A professional domestic cleaner can also help with your annual spring cleaning checklist. Not only that, commercial cleaning companies will have a detailed understanding of fixing each and every issue and even the hardest stains will be effectively removed. Apart from that, hiring pro house cleaners with Ozclean comes to you at the most affordable price plans as well.
WE COVER ALL THE SUBURBS IN BRISBANE
When we say Brisbane, we mean every nook and corner of it. Our high quality, perfectly designed bond cleaning services are available at your doorstep in Brisbane and all nearby suburbs. We are just a phone call away.

FREQUENTLY ASKED QUESTIONS
Got questions regarding House cleaning? Let us help you
Bond cleaning is more of an obligation that each renter must fulfil when their lease expires, while house cleaning is a process where the amount of cleaning needed is entirely dependent on personal preference. It is not governed by any laws in any way. In essence, house cleaning is done to maintain your home tidy and to live in a clean atmosphere free of dust and grime.
Our team of professional cleaners uses high-end appliances in addition to the standard cleaning supplies like sponges, squeegees, brooms, and washcloths to ensure that your home is properly cleaned. We conduct our cleaning services using cutting-edge technology, which ensures that no dust is left behind after we are done.
The cost of domestic cleaning in Brisbane will mainly depend upon the property. The prices charged for house cleaning will depend on a wide range of variables which includes the area that must be covered, the type and condition of the property, the damages that must be repaired, the frequency of cleaning, and other factors. Customers can also avail our free quotes facility beforehand.
As one of Brisbane's top housekeeping companies, Ozclean promises nothing less than expert service. Each member of our cleaning crew is chosen following a careful background investigation and verification. This guarantees the cleaning crew's entire dependability and reliability. The team has received comprehensive training in the house cleaning procedure, ensuring that your house is cleaned to the highest standard.
With years of industry experience, we are among Brisbane's best cleaning businesses. To ensure that our customers receive only the best cleaning services, we employ cutting-edge technologies. However, regardless of all of this, if you are dissatisfied with our service, please reach out to us. Your house will be thoroughly cleaned a second time, and you won't have to pay us until you are happy with the results.
At Ozclean, customers can schedule and reschedule sessions and bookings as needed. Clients can change and rearrange their booking times fully in accordance with their flexibility. So, if you need to change your reservation, feel free to contact us at any time and we'll reschedule the time for you.