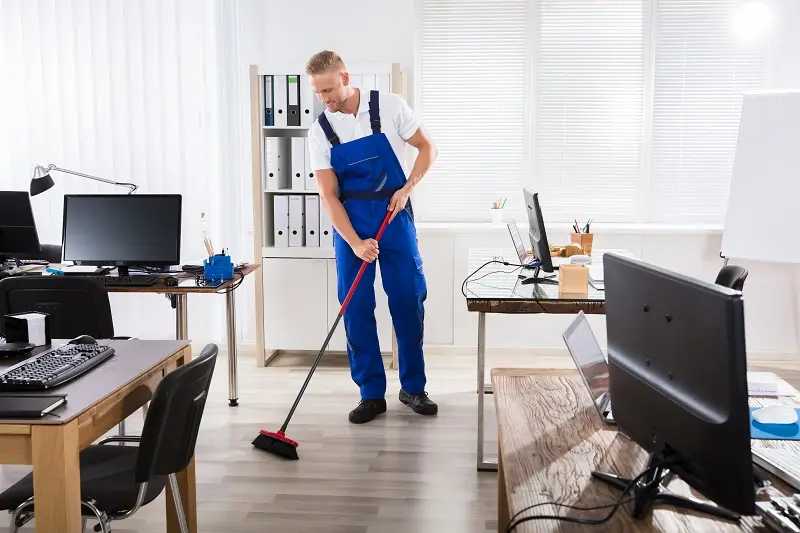 July 26, 2021
Admin
It is very essential to create a healthy office environment for your employees. A clean and neat office environment is always a universal work augmenting factor. It leads them to breathe in clean surroundings that boost up their productivity making them less prone to diseases. This ultimately creates a healthy workplace for your employees to survive in. Hiring a professional cleaning service helps you to focus on the company activities and not on the dirty crevices. The experts at cleaning companies take up the responsibility for all cleaning services at your office space. They customize the cleaning service as per your requirements. Using standard quality products and advanced equipment, they help to get the job done right first hand.
Let us take a look at the benefits that we can reap from professional office cleaning services.
Higher productivity of the employees
There is no place that is untouched from bacteria and germs. People who visit your office regularly can spread the infection very easily by touching commonly used surfaces like door handles, desks, or keyboards. A dirty office leads to higher distraction for the employee and results in less concentration in performing their tasks. Unorganized companies make it hard to find required documents which is a major wastage of time. Regular cleaning that includes brooming, mopping, vacuuming, etc. can enhance your work environment. It eliminates the germs and allergens from your workplace. Professional cleaning services are an additional benefit for a clean and productive environment for your employees. This results in fewer sick leave days and increased productivity. De-cluttered offices improve motivation for the employees with progressed work ethics.
A deep- professional clean
A systematic deep clean is vital for maintaining a hygienic workspace for a healthy working environment. A deep clean is different from a regular cleaning process. With deep cleaning, you will be able to reach all nooks and crevices of the office space, by keeping away from all the pests and rodents around the office. A deep clean leaves no space untreated with comprehensive cleaning services. From light switches to keyboards, a deep clean will see through all the spaces where light has not fallen on. Deep cleaning ensures that every area of your office is sanitized to the fullest. A deep clean can be scheduled every week, month, or at least once a year for keeping up the employee's productivity levels.
Better impression on customers and guests
A clean office equals a good impression. The first impression is always the best one. Every time visitors enter your office, you need to make it absolutely welcoming for them. The stain-free carpets and seating of the reception area can create a better impression on your guests to make them shake hands with you for the most critical deal. Confidence level can be boosted up with the fresh and clean ambiance even to the most disconcerting eye. Cluttered office space can cause you to lose better opportunities. Improving and promoting customer satisfaction is very crucial for running a successful business. A fresh and clean office can send out positive vibes for both the employees and your valued clients with a better public image.
Reduce transmission of illness
With office spaces growing in size, it is very important to maintain a high level of hygiene to reduce personal health risks. With more people moving in and out of the office, it is essential to maintain a pleasant and healthy atmosphere. A meticulous cleaning schedule offered by cleaning professionals can reduce the transmission of illness. Public kitchen and toilets being the main culprits, professional cleaning on a regular basis is significant to keep your employees healthier. Most of the offices fail to clean these two areas, thereby causing allergic and respiratory problems. A dirty office environment can result in employees taking up more sick leaves than they usually would. It may not be possible to remove all the viruses from your workspace but at least you can encourage a clean culture in the working environment by avoiding potential germs and bacteria.
Improve the aesthetic appearance of an office
You always need a creative environment for giving your best. With multiple tasks being assigned in an office, employees tend to have a cluttered desk with papers piled up. This mess needs to be done and dusted for improving the aesthetic appearance of your working space. This decluttering helps in improving employee motivations and facilitates satisfying collaboration amongst employees. Companies need to enforce no eating at desks for maintaining a neat and clean space. Professional cleaning experts pave away by ensuring minimum or zero clutter from disposing garbage rightly to untangling the wire cords that run on your desks and conference tables. Aesthetically appealing workspaces are a bonus for inviting potential clients.
Saves money, time, and energy
The focal point of hiring professional cleaners is to avoid taking up the significant time of the employee's time plan. While having to pay cleaning companies for maintaining a hygienic office space, the expense is worth it in the end. You can very well imagine how much it would cost you to replace weary and torn carpets and furniture that have been left untreated for a long time. Using improper cleaning supplies can also damage the carpets and fixtures. You can save up on your money, energy, and time by choosing the right professional cleaning company with the ideal cleaning tools and expertise. This helps you to quickly get your job done right by being cost-effective in the long run.
Conclusion
Hiring the best professional cleaning company can do more than saving your energy and time. They promise an impeccably cleaned office space to boost the productivity of your employees. You can get the benefits of having a lot more time for other things with reputable commercial office cleaning companies. With top-notch cleaning equipment and products, they can save a lot of money by keeping your things clean and good in shape without the need for replacements. A healthy workplace can be created by covering up all the nooks and crannies of your office space. Some of the major benefits of a clean office include improved productivity, clean air, better brand image, and health. A positive and hygienic working environment tends to increase customer loyalty for improving the business.