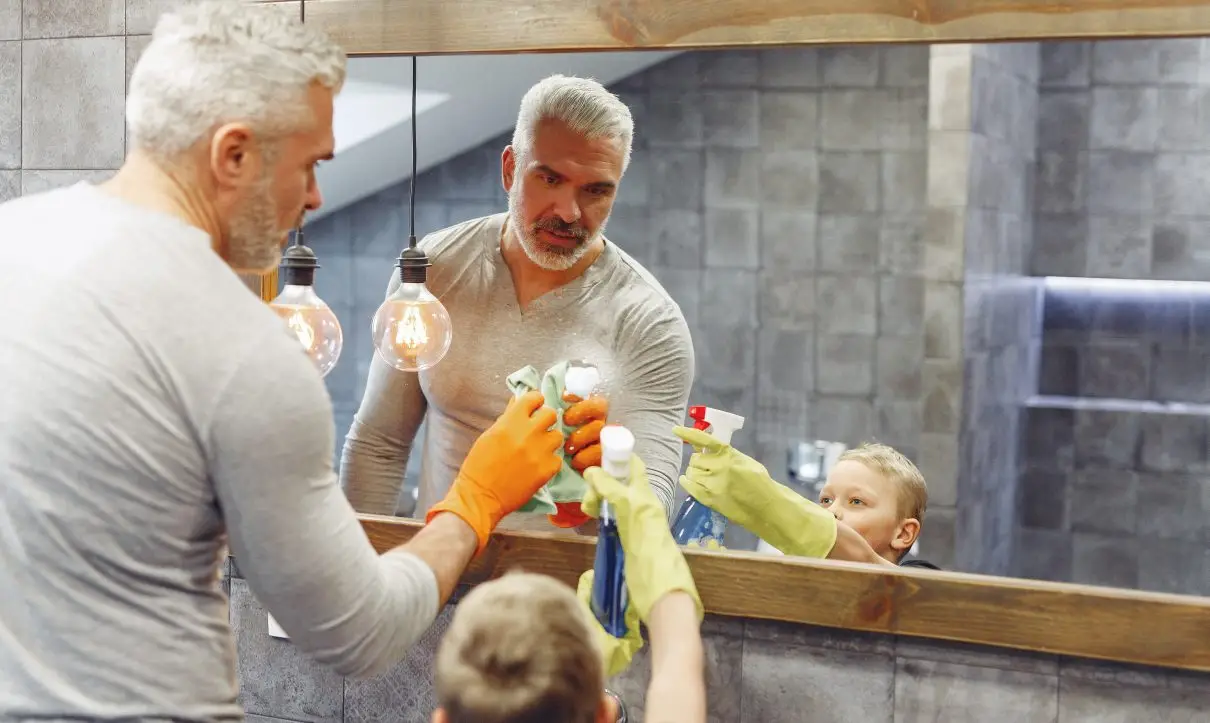 August 18, 2021
Admin
Is it possible to teach your kids to clean? Most of the kids love to make a mess, but usually don't like to clean it up. It is a never-ending battle, to not only get your house cleaning done but also to maintain it.
The sooner you teach your kids to do the cleaning or other household chores, the sooner they will be more responsible ones. Because according to the researches it is found that work ethic is one of the greatest predictors of success in adults. That means cleaning is a very important life skill to be learned at a very young age rather than waiting for things to get out of control or messy.
In the beginning, take time to show your children how they can participate in daily cleaning activities like making the bed, putting toys away, and wiping small surfaces, etc. This will gradually create an interest in them to do the tasks on their own and also helps kids to build a good work ethic in them. These simple tricks will inspire them to acquire some good morals and skills to be more independent and responsible in the future.
Here are some of the best tips and strategies that you can follow and will help you to teach the kids to clean the house.
Communicate
This is a very significant step as they don't know much about the importance of cleaning. So talk to them and tell them why it's important to contribute to the household when you are in a family. When we told them to clean their room or house, sometimes they will be astounded, because they simply don't know how to start and what to do. So rather than telling them to clean the entire room, give them proper instructions.
If you have a small kid, explain to them what will happen if they haven't sorted out the toys after playing. There are chances that they could get broken or lost. So it's good to put it away every time after playing. So when you communicate they will obviously understand what is being asked and how to handle the task.
Make It Fun
Some love cleaning, some just hate it. If you want your young ones to love it, make it a game. Use your imagination and skills to make it more fun. Put on some music and we all know that kids love music. For example, set a timer for specific tasks and ask them to finish it before the timer runs out. Anyway, use your head to make it less like a tough job and more like a game. By making it fun and easy, you'll help your children to do a task that might appear to be a boring task.
Use A Reward System
Always thank them for their efforts and give them small rewards. Maybe more screen time or food that they love to eat or maybe a small amount of pocket money. This will definitely create an interest in them to get more involved in the daily households. Encourage them to do involve more and remember, your kind words mean a lot to them. I guarantee they will be more likely to do their chores if you appreciate it every time. Even if haven't completed the task in a proper way, take time to teach them the correct way of doing things. Show them how nice the room looks now and how proud and happy you are with them.
Be A Role Model And Do It Together
Kids absorb everything that they see. If you want your little ones to understand the importance of cleaning, set them an example of how you do it. You can't ask your kid to pick the toy r clean the room when you are not doing it properly. So try to do your chores regularly.
When life is busy, you need to schedule everything and show them how consistent are you in cleaning and tidying things. Rather than making them clean the rooms lonely, you do it together. Create e timetable, where all family members can do it together and win the benefits together. Here you are letting your younger ones know that if they help in cleaning, parents will be available more when they have enough free time.
Don't Redo It
When finally, your child's room is clean or the assigned task is complete, don't redo it. If you redo what they have already done, they might be so concerned to do it next time when you ask them to do it. Because it is their effort and hard work. The end result is not as important as it is done by our kids. When you redo it, they might think what they did was not just right. There are chances that, they will be discouraged to do the cleaning again and insist on you to get it done.
Make sure this will not happen. For that, at first, give them chores that are age-appropriate and then give them proper directions to do it properly. Don't expect too much from them and every time appreciate and give suggestions to make it better.
Keep It Simple
Always keep it simple and easy. Don't give your kids tough tasks or a long list that they can't handle. They will get strained at the beginning itself. You can help it by giving age-appropriate tasks. Kids also will be relieved when they will be able to complete each assigned task.
Declutter And Donate
Teach them the need for decluttering and invite them to do it. Allow your kids to choose those things that haven't been used for a long time. Maybe this will be very hard for them. But try to make them understand the necessity of decluttering and tell them that this will go to someone who needs it more. When they know that donating their things will create an unforgettable day for another child, they will be more happy and proud. And when there is less clutter at home, the less there is to clean.
Conclusion
Teaching your kids to clean doesn't have to be a complicated or strenuous task. Use these tactics and techniques to enjoy their house cleaning process. When you successfully teach kids to clean, you may unexpectedly find yourself with spare time to spend quality time for yourself.